Contact
Dynostar
Hogerwerf 15
4704 RV Roosendaal
The Netherlands
T : + 31 165 521 336
Free quote?
Want to know what we can do for you? Request a free quote!
Enquiry
Dynostar RC3300 - AWD
All wheel drive literally
With an adjustable wheelbase from 2 meters up to 3,5 meters and a max track width of 2100mm this reliable dynamometer is suitable for testing a wide range of cars, even two-wheel drive vehicles with ABS, ESP or ASR. In combination with our in-house developed ADS software it's an ideal platform for tuning, testing and diagnosis.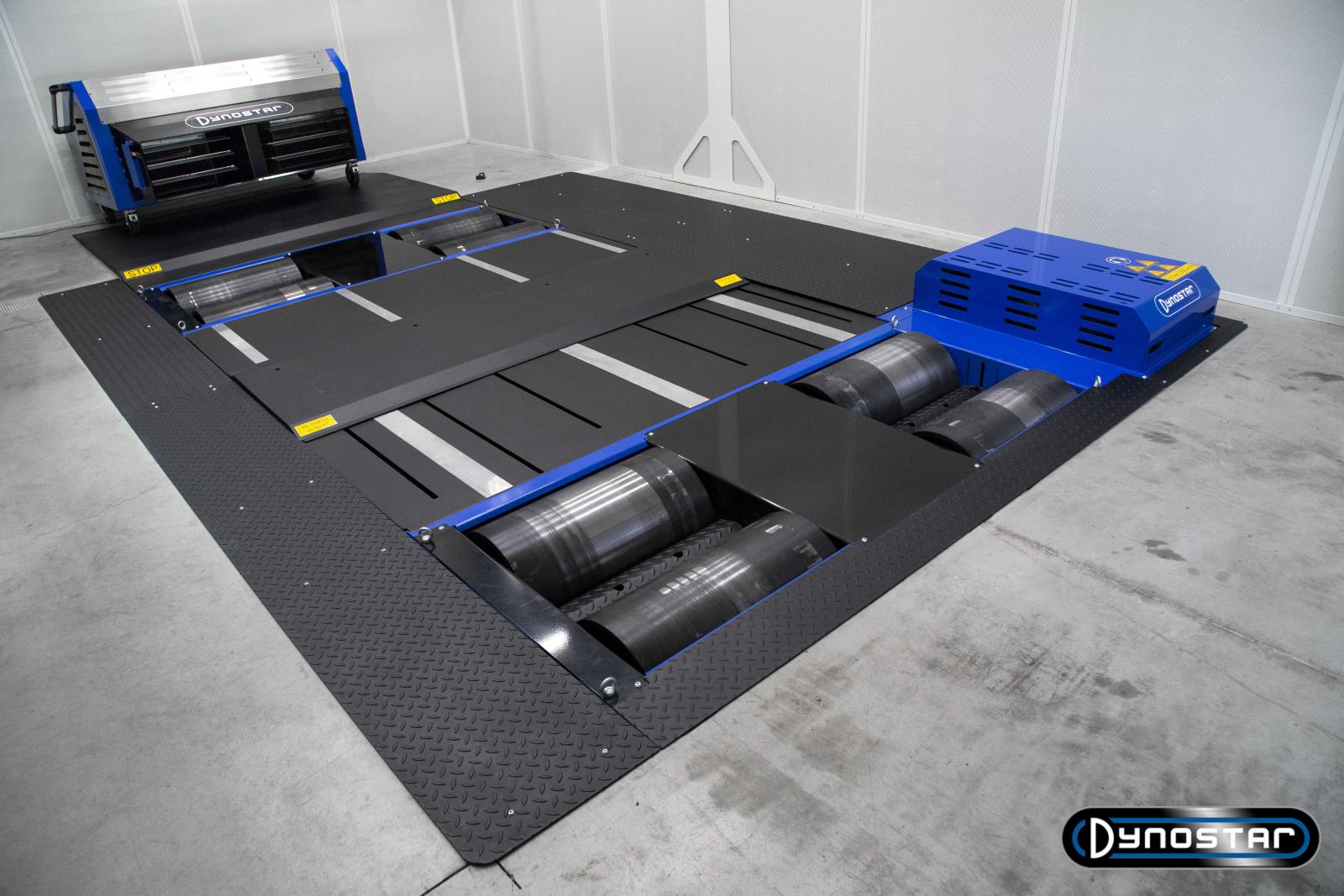 This dynamometer is capable to absorb power up to 620 kW for brief periods and over 260 kW continuously, all because of the air-cooled retarder (3300 Nm). With grooved rollers and optionally tungsten carbide we can offer optimum grip.
By using advanced laser alignment and a 3D design we can provide a perfectly balanced dynamometer. This dynamometer is fully designed in-house so we guarantee high-quality.
An additional feature is a 55kW e-motor in combination with our drive sym / drive cycle software which allows a realistic on the road simulation.
NEW!
Recently Dynostar made it possible to modularly build a RC3300 AWD. Which means the RC3300 can be purchased in two parts! With only one half, the RC3300 is fully operational and powerful two-wheel drive dynamometer. This half is the fixed chassis part and contains the retarder. Later on, it is possible to extend your Dynostar dynamometer with the other half, when these halves are synchronized, your workshop is equipped with a fully-functioning four-wheel drive dynamometer.
Modularly built your RC3300 when you want to invest in the future of your workshop!
Standard hardware features:
DAS Data Acquisition System and PLC system
Advanced Dyno Station Software package
Junction Box
Remote controller
Instructions and manual
CE marking
Emergency brake
Straps and floor anchors for immobilizing the car
Standard software features:
Static power measurement
Dynamic power measurement: Roll on, Negative test, All gear, Variable transmission, Fast acceleration, Multiple speed and Acceleration test
Speedometer test
Weather station
Power correction to DIN, EEC and SAE standard
Automatic braking after completing a dynamic test
Real time display of engine speed, power, traction and vehicle speed in software
Simulation of roller and air resistances for simulating situations on the road
Automatic calculation of losses in the drive line and calculation of power at crankshaft
Weight:
5.000 [kg]
12.180 [lbs]
Dimensions (lxwxh):
4.9 x 4 x 0.65 [m]
200,8x167,7x36,2 [inch]
Power requirements:
230 [V]
Max. consumed current:
25 [A]
Air requirements:
6 [bar]
Max. speed:
250 [km/h]
155,3 [mph]
Drum width:
0.7 [m]
27.6 [inch]
Drum diameter:
0.4 [m]
15.7 [inch]
Number of drums:
8
Min. track:
0.69 [m]
27.2 [inch]
Max. track:
2.1 [m]
82.3 [inch]
Max. vehicle mass:
3500 [kg]
7716,2 [lbs]
Min. wheel base:
2.0 [m]
78 [inch]
Max. wheel base:
3.5 [m]
138 [inch]
Total inertia:
64 [kgm2]
Equivalent vehicle mass:
1609 [kg]
3546 [lbs]
Max. dynamic power:
1000 [kW]
1341 [Hp]
Max. static power cold:
619 [kW]
830 [Hp]
Max. static power continuous:
259 [kW]
346 [Hp]