Contact
Dynostar
Hogerwerf 15
4704 RV Roosendaal
The Netherlands
T : + 31 165 521 336
Free quote?
Want to know what we can do for you? Request a free quote!
Request quote
Build a RC3300 AWD modularly
22/01/2019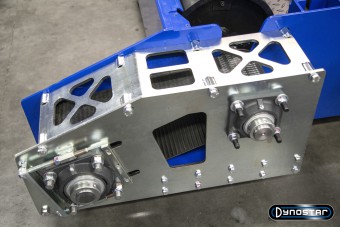 NEW AT DYNOSTAR
BUILD YOUR OWN RC3300 AWD MODULARLY
At Dynostar we believe in making high-quality dynamometers that fits our customer wishes the best as possible. That's why we've added a new option to our automotive range.
Recently Dynostar made it possible to modularly build a RC3300 AWD. Which means the RC3300 can be purchased in two parts! With only one half, the RC3300 is fully operational and powerful two-wheel drive dynamometer. This half is the fixed chassis part and contains the retarder. Later on, it is possible to extend your Dynostar dynamometer with the other half, when these halves are synchronized, your workshop is equipped with a fully-functioning four-wheel drive dynamometer.
Modularly built your RC3300 when you want to invest in the future of your workshop!
Interested? For more information and inquiries please contact our sales department:
info@dynostar.com
+31 165 521 336